In this week's 3-2-1 Column, we're thinking about Pitt's win over Virginia Tech, Saturday's trip to Clemson, the basketball team's disaster and a lot more.
THREE THINGS WE KNOW
Surprise, surprise, surprise
This 2020 season has been full of surprises.
There's the first surprise, which is that there has been a season at all. If you asked me in July or August, I probably would have bet against that.
But once the games started being played, there were plenty of surprises to come, and for Pitt, most of those surprises weren't good.
Losing to N.C. State at home was a surprise, and not a good one. Missing an extra point in overtime at Boston College was not a good surprise. Getting the doors blown off by Notre Dame – remember how we all pointed out that Pitt always plays Notre Dame close? – was not a good surprise. Losing four in a row for the first time since 2007 was not a good surprise. And when the team finally got some positive momentum with a blowout win on the road, it was not a good surprise to have the next week's game – another winnable contest – postponed.
But the season of not-so-good surprises took a turn for the pretty-good last Saturday with one of the biggest surprises of all: a short-handed team missing its leading receiver, its leading tackler and three starting offensive lineman, sitting on a 4-4 record with the list of things to play for shrinking by the moment, fresh off a postponed game and facing an opponent that had won twice against teams that beat Pitt – that team, with all of those things working against it, went out and beat Virginia Tech into submission.
I mean, it really wasn't all that close. It looked close in the beginning when the Panthers were settling for field goals and the Hokies started getting their offense going. But therein lies another batch of surprises, because Pitt's offense was able to sort itself out and start scoring touchdowns while the defense locked down Virginia Tech in a series of bend-but-don't-break scenarios.
The whole thing was about as improbable as anything I've seen since…maybe the last time Pitt hosted Virginia Tech at Heinz Field? I didn't see a 52-22 blowout coming in that game, and I definitely didn't see a 47-14 blowout coming in last weekend's game.
In fact, I ran into a few Pitt people in the parking lot before the game and we generally agreed that the afternoon's affair had the potential to get ugly.
Turns out, we were right: it did get ugly. Just not how we – or at least how I – expected. And I couldn't have been more surprised about it.
I said after the Florida State game that I didn't think the 2020 Panthers (or the 2019 Panthers, for that matter) were capable of doing what they did to the Seminoles. Blowout wins, convincing wins, dominating wins – these things just didn't seem possible with this group.
But they did it in Tallahassee three weeks ago, and then they went out and did it again last week at Heinz Field.
In the midst of a season that has generally been a disappointment, it was a pleasant change to have Pitt spring a positive surprise on everyone.
A whole other animal
And now for something completely different…
Beating Florida State and Virginia Tech by a combined score of 88-31 was one thing. Going on the road to face a top-five opponent who is outscoring its opponents, on average, 45-20 is something else altogether.
And even if Clemson in 2020 is not the beast that Clemson was in 2019 or 2018 or 2017 (their down year when they only made the College Football Playoffs but didn't advance to the championship game) or 2016 or 2015, there's no question that the Tigers are still one of the most talented teams in the country.
As you well know, Clemson has one loss this season, and that came at the hands of another top-five team in a double-overtime game on the road while the Tigers were playing without stud quarterback Trevor Lawrence. In Clemson's other seven games this season, the Tigers have a scoring advantage of 323-109 – an average score of 46-16.
And in the six games Lawrence has played, Clemson is outscoring its opponents, on average, by a score of 48-14.
Granted, a lot of those points – for and against – have come against the likes of The Citadel (49-0), Georgia Tech (73-7) and Syracuse (47-21), the Tigers also won their only other game against a ranked opponent with a 42-17 handling of Miami, who was No. 7 at the time of the game.
Man, that's a long-winded way of saying "Clemson is good," which I assume you already knew. I'm quite confident you were aware of the fact that the team who has been the class of the ACC for the last five seasons will present arguably the biggest challenge Pitt will face this season.
(I guess you could make the case that Notre Dame was the biggest challenge the Panthers have faced this season since the Irish beat the Tigers head-to-head, but I would contend that Clemson with Lawrence beats Notre Dame, especially if the game is played at Clemson.)
It's not even worth drawing references to 2016, either. That was a completely different Pitt team that was capable of completely different things from this year's squad. Sure, there is some overlap in that forcing three interceptions and scoring six touchdowns would go a long way in getting a win, but that goes for any game.
I think the key for Pitt in the 2020 game against Clemson is to dig deep into the Panthers' last two games. Some things were working at Florida State and against Virginia Tech; the coaches and players need to identify those things, refine them and lean into them.
It's obviously going to be tougher to score touchdowns on Clemson's defense than it was in either of the previous two games. And the Tigers' offense is obviously going to find some favorable matchups with its roster of talented pass-catchers (not to mention Travis Etienne, who might be one of the top three or four skill players in the country).
But there are still things Pitt can draw on from the wins over FSU and Virginia Tech. Like the passing game: the Panthers went into Saturday's game looking to take what the Hokies gave them in the passing game, and Kenny Pickett did a great finding open receivers for short or middle-distance gains. 6-yard passes, 7-yard passes, 10-yard passes, 11-yard passes – these are a great source of offense if you can pick them up consistently.
Give Pickett just a little time in the pocket, just a few seconds, and he can make those passes. I think that approach will have to be something Pitt emphasizes on Saturday.
On defense, it's going to be pretty tough to stop Trevor Lawrence, although it's maybe worth noting that the Tigers' junior phenom and eventual first-round NFL Draft pick hasn't played since Oct. 24. Maybe – maybe – Lawrence will have a little rust after that layoff. One of the underrated elements that led to Pitt's last upset of Clemson was how the Panthers got to Deshaun Watson for three interceptions; maybe Pitt's pass rush, which is better now than it was in 2016, can rattle Lawrence a little bit early on and create a few turnovers before he settles in.
Maybe.
Like I said, it's going to be tough. With Lawrence on the field, Clemson is the best team Pitt will face this season. If nothing else, at least the Panthers have some positive momentum heading into this one.
Some standout step-ups
I mentioned earlier how everyone expected the worst when it became clear that Pitt would be missing a bunch of starters and key contributors on Saturday.
Three offensive linemen from a unit that was struggling in the first place? Good luck staying upright, Kenny Pickett.
The leading receiver on the team? Good luck getting anything going in the passing game.
The leading tackler on the team? Good luck keeping Virginia Tech's running game in check.
The starting safety who stuffed the stat sheet in the previous game? Good luck defending in the secondary.
I think that about sums it up. But as we saw, the players who were called upon to step in and play did just that and more. In fact, the backups who became starters against Virginia Tech did enough to create some real questions about just who exactly should be starting in the final two games of the regular season.
We'll get to that question in a minute. For now, let's just look at how the former reserves played on Saturday.
D.J. Turner has obviously gotten a lot of the accolades, and rightfully so: he had a monster game with 15 receptions, 184 yards and a touchdown on 20 targets. Turner saw a huge increase in workload with Jordan Addison out of the game due to COVID protocols, and that's the theme with the Maryland transfer:
When Addison is out, he thrives.
Addison missed most of the N.C. State game with an injury, and Turner responded with eight catches for 186 yards. Throw in the Virginia Tech game, and Turner's two-game sans-Addison totals are 23 receptions, 370 yards and a touchdown.
But Turner wasn't the only receiver to make the most of extra opportunities. Freshman Jaylon Barden also had a career day with 65 yards and a touchdown on five catches. That was the first time he recorded a reception in a game since the season opener, when he had an impressive 68-yard catch against Austin Peay.
Barden is one player I've been looking to see more from as the season has gone on, but he hasn't gotten a lot of work. Well, he saw some targets last Saturday and made a whole lot out of them.
And then there's the offensive line. With three starters down, there was a whole lot of inexperience on the field, but you wouldn't have known it by looking at the results. The offensive line gave up two sacks, but that was among the few negatives you'll find, as the offense produced a season-high 556 yards and looked quite effective in the run and the pass.
In addition to Turner, Barden and the linemen, Pitt got the more or less expected performances from guys like Kenny Pickett, Cam Bright and Damar Hamlin, who all had exceptional games. But having those other players step up when their numbers were called was huge – both for the game against the Hokies and for the future of the team.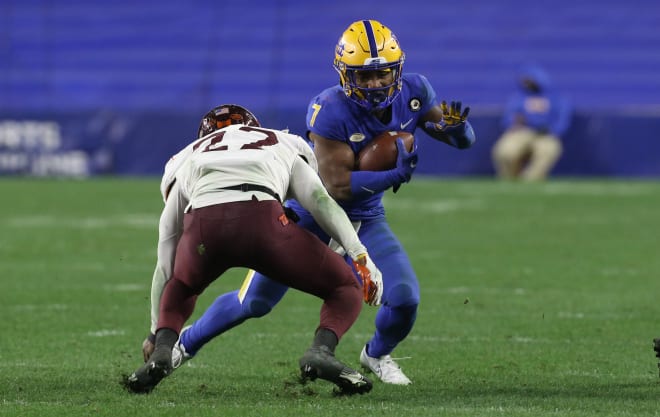 TWO QUESTIONS WE HAVE
Will those backups get more time?
This is really the second part of that last section, and it's an inevitable question to ask after watching Turner, Barden and those three new starters on the offensive line. A bunch of the players who missed the Virginia Tech game will presumably be back this week, so the Pitt coaching staff is going to face some decisions about what lineups to go with.
There's no denying that players like Matt Goncalves, Blake Zubovic and Carson Van Lynn handled their duties admirably last Saturday. In some cases, it's not crazy to say they performed better than the guys they were replacing.
Obviously, it's just one game and the sample size and level of competition have to be taken into consideration, but I think it's fair to ask if Goncalves might be a better option at left tackle than Carter Warren, who started the first eight games of 2020 and all 13 games last season.
Similarly, Zubovic opened a few eyes on Saturday while he was working in place of Jake Kradel, and Van Lynn should at least merit a rotation with Gabe Houy at right tackle.
I won't go as far as to say that the coaching staff was playing the wrong guys to begin with. Maybe they were, maybe they weren't; I'm not privy to every bit of info the coaches have on those linemen and I'm sure they had their reasons for making the personnel decisions they made earlier this season.
But now they've got a full game of film on Goncalves, Zubovic and Van Lynn, and I have to think that's worth something. It will be really interesting to see how they line up at Clemson on Saturday.
As for the receivers, Turner's involvement and workload seem to be tied directly to Addison's availability. I still think Addison is one of the most talented players on the team and should get a lot of targets, but it's undeniable that Turner is an impact player; he's got to have a role, I'd think.
I also think Barden merits further consideration, and I've been advocating that for a few weeks. His speed might be unmatched on Pitt's roster and he showed on Saturday that he could make some tough catches. I don't know if it was Jared Wayne's absence that got Barden more involved, but he seems like someone who earned some more playing time in the final games.
Like I said, it's going to be really interesting to see what the personnel looks like the rest of the way. The linemen and the receivers all played well enough to earn it, but as the missing players return, how will the snaps shake out?
That's one of the top storylines heading into Saturday's game at Clemson.
What happened on Wednesday night?
Pitt basketball opened its season on Wednesday, and I imagine most of you would probably like to forget it already.
I can't recall exactly when the bemusement of St. Francis' early success turned into genuine concern for the outcome of the game; there was probably some point in the second half where I thought to myself, "Holy ****, they're not going to come back and win this game."
By that point, though, it was clear that even if the Panthers did come back and win, they would be facing a whole lot of questions about how things got so bad to begin with.
The most concerning thing was in the big picture, because for all of the little issues that dogged Pitt in the opener, it was the fact that the team didn't look any better on Wednesday than it did a year ago that was really troubling.
This is Year Three for Jeff Capel and Year Three for Xavier Johnson, and neither one of those guys performed at a very high level on Wednesday night. Two years ago, that was fine; it was Capel's first year at Pitt, Johnson was a freshman and the program was trying to recover from the Kevin Stallings Era.
But that was two years ago. Johnson didn't take the step forward that was expected last season, but some of that was chalked up to learning some tough lessons – lessons that were supposed to make him a better point guard this season.
Except he wasn't a better point guard on Wednesday night. He had six turnovers in the first half against St. Francis and generally displayed a lot of the issues that dogged him last season.
For Pitt to get better this year, Johnson had to get better. On Wednesday night, he wasn't better and the team suffered for it.
Capel has some blame to take, too. He talked a lot after the game about a lack of energy – how his team didn't come out with a lot of effort or focus early in the game, how they lacked urgency after tipoff.
Capel seemed unsure of how his team could have that approach. "Surprised" was the word he used. The problem is, that's not the first time we've heard Capel talk about his team lacking energy or focus, especially at the start of a game.
It's not the second or third time either.
We've heard Capel say that a lot over the last few years, and it's troubling. Energy should not be an issue, but it was on Wednesday night, just like it has been on multiple occasions.
And that's my big concern from Wednesday night: nothing (aside from Au'Diese Toney) seemed to be better than it was a year ago. I came into this season willing to call it a success if the team improved. Even if they finished with a losing record in the ACC, something like 9-11 or 8-12 could be a good season if the players showed marked progress from last season.
That's the minimum for what needs to be accomplished this year, and in Game One, they fell way short – from the coaches to the players.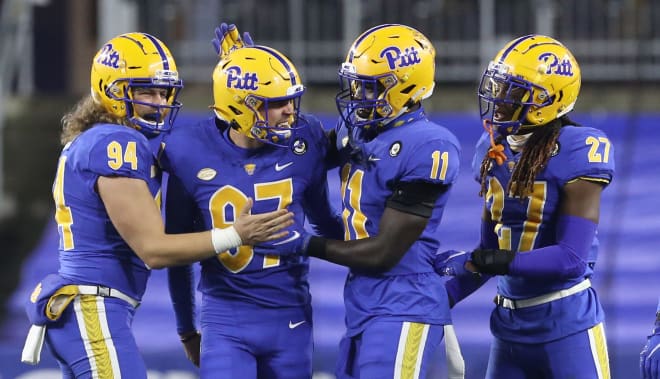 ONE PREDICTION
This one will be more competitive than the Notre Dame game
Look, I can't sit here and objectively predict a Pitt win at Clemson on Saturday. The matchups obviously favor the Tigers, and they are a top-five team for a reason.
But I'll go a half-step in that direction and say that this next game won't look like the 45-3 loss to Notre Dame earlier this season.
Okay, that's a pretty lame prediction. I'll admit that. I'm taking Pitt's worst performance of the season and saying, "Hey, they won't be that bad again." Not exactly going out on a limb. But I do think the Panthers will give Clemson a game.
The first reason – and it's a big one – is that Pitt will have Kenny Pickett. His absence was a big factor in the Panthers scoring just three points against the Irish, and while he alone might not have turned that game into a win, he certainly would have made the result a bit more respectable.
I also think Pitt's offense has discovered a few things about itself in recent weeks. At the start of this column, I said that the Panthers needed to draw on what worked against Florida State and Virginia Tech. It won't be quite as easy to do those things against Clemson, but there's a blueprint in there for how this offense can get into a rhythm and be successful.
Conveniently, whatever changed in the offense schematically for the FSU and VT games coincided with Pickett returning, and the product was an offense that looked better than anything Pitt has done on that side of the ball since…2016? That may seem like hyperbole, but that really was the last time the Panthers were effective in the run and the pass the way they have been in the last two games.
I don't want to overhype those two wins; the Hokies aren't great and the Seminoles are downright bad, and the level of competition has to be considered. But I believe there are some elements of the offense in that two games that, at a very empirical level, can be carried over to Saturday.
On the other side of the ball, it's going to be tough to stop Lawrence and company, but the key matchup will be what it is every week for Pitt's defense: the pass rush against the opponent's quarterback.
Pitt's defensive line is very good, as we know, and the Panthers' pass rush is one of the best in the nation – nobody else has more sacks than Pitt, and no team that has played more than four games is averaging more sacks per game.
If the Panthers can get to Lawrence, they can force him into some mistakes, or at least make him uncomfortable and miss throws. Pitt isn't going to be able to cover Clemson's pass-catchers forever, so the Panthers will have to take the battle into the Tigers' backfield and get after Lawrence.
Like I said, I can't predict a win. But I think Pitt will give Clemson a game. And if the Panthers can generate a little offense and get to Lawrence a few times…who knows? Maybe they can surprise us all for a second week in a row.